This month, we present the sixth interview with an International Tax Stamp Association (ITSA) member, providing their perspective on the present opportunities and challenges of the industry, and the developments they anticipate for its future.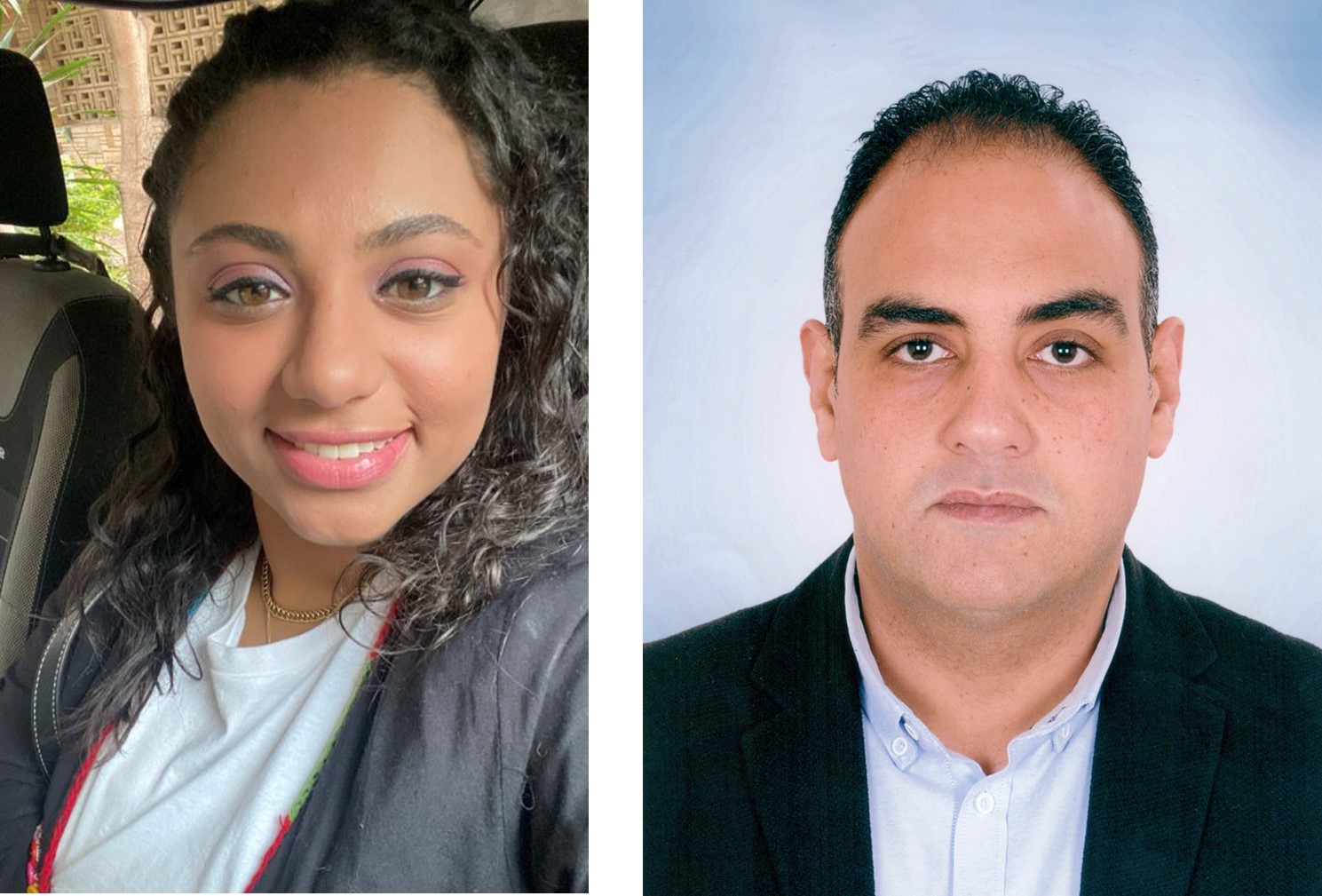 Hunia Hassan (left) and Dr Hany Maklad (right).
Following interviews with Luminescence Sun Chemical Security, Garsu Pasaulis, Authentix, ANY Security Printing, and SICPA, we welcome the Arab Republic of Egypt's National Company for Advanced Industries and Integrated Strategic Printing Solutions (NASPS). Hunia Hassan, the company's International Relations and Business Development Specialist, collected input from various company experts for the interview – including Tax Stamp Production Manager Dr Hany Maklad – in order to present a company-wide perspective.
Q: Please would you introduce your company?
A: In 2016, NASPS was founded with the goal of establishing secured printing facilities equipped with cutting-edge technology to meet the needs of Egypt and the local region, and also to create a unified code for all documents – whether plastic or paper – to fulfil international security standards.
That was only going to happen by uniting the production facilities under one roof to produce secured documents such as ID and travel documents, excise stamps, holograms, security paper, and payment cards.
We also develop associated information and personalisation systems.
We are the first and only facility in Africa and the Middle East to provide a full-cycle production of all secured documents using integrated technologies, with integration being a key part of the strategy, offering self-sufficiency not only for the documents but also for their components.
A desire to modernise the nation's ID system and turn the creation of official documents into a sovereign business contributed to how quickly NASPS has established itself. Beginning with the construction process that started by the end of 2019, within only 18 months, NASPS was officially opened by Egypt's President in April 2021.
Q: What do you see as the company's particular characteristics?
A: Several fundamentals make us unique. To begin with, NASPS can provide an integrated production cycle for all secured and smart issuances – from raw materials to the final product and its official systems – by offering technological solutions and related databases. This allows us to achieve the state's goals for digital transformation, and improve the services provided to citizens, as well as guarantee the multiple levels of security required for any highly secured document.
Most importantly, we have a full-cycle production programme, with factories at our complex that operate in synergy to deliver finished products, including passports, health and security cards, vehicle registration and identification, textbook security tags and – of particular interest to this audience – tax stamps and track and trace systems.
Another thing that distinguishes NASPS is our capability to combine diagnostic digital printing methods with conventional printing methods and nano-discrimination inks to add a multi-layered security level to tax stamps and secured papers.
Q: What role does your company play in the tax stamp industry?
A: As I mentioned, NASPS has a dedicated sector for producing and personalising tax stamps using the latest secured technology to achieve track and tracing, both in printing and personalisation. We currently serve the Egyptian market with tax stamps for various items ranging from medicines to cigarettes, and have plans to expand our offerings across the Middle East and African region in the near future.
Q: What do you think is the most interesting aspect of tax stamps and/or the industry?
A: The continuous innovation in the style and sophistication of tax stamps is a remarkable element of the industry, and testament to its importance and future potential.
From relatively simple, physical stamps placed onto items, tax stamps now employ cutting-edge technologies – integrating elements such as invisible QR codes and holograms – to provide unprecedented security and traceability.
It's exciting to be part of such a fast-moving industry, and it encourages us to also continue modernising and improving our processes.
Q: What changes have you seen to the tax stamp industry during your time working in it?
A: Security features are an area of especially rapid development. These days we have digital fingerprints like invisible QR codes that couldn't even have been imagined in the early days of tax stamps. This enables much more advanced track and trace for products.
Q: What changes do you envisage happening within the industry in future?
A: The information that can be conveyed by tax stamps is likely to develop even further, and will be integrated into track and trace, enabling us to more finely record details of a product's complete lifecycle. This offers distinct benefits for the whole value chain, from the authorities and manufacturers, right down to the individual purchasing a tax-stamped product. For authorities and consumers alike, the authenticity of the product is extremely important. Likewise, companies benefit from making counterfeit products less viable.
More lifecycle data also has the potential to improve efficiency and reduce wastage. For example, if a manufacturer can see a particular line is not selling as well as others, and that data is available to them very quickly, they can react rapidly and reduce their production until demand picks up, or even discontinue a product that is no longer desirable to consumers.
Also, as people worldwide become more aware of where and how products are made, tax stamps will provide them additional information that enables them to make fully informed purchasing decisions.
Q: What is one change to tax stamps or the industry you would like to see?
A: Better integration of tax stamp technology at the manufacturer level would offer many benefits, for example printing directly onto products rather than applying a tax stamp over existing packaging, improving efficiency, and reducing materials. As previously discussed, such improvements could also feed lifecycle information back to the manufacturer, which would aid them in making better design and production choices.
Q: What do you see as the main challenges within the industry today?
A: As we improve tax stamps, so counterfeiters increase the sophistication of their forgeries. In order to stay ahead of this, we need to continuously develop new and better technologies, of course, but working more closely with manufacturers could also be beneficial.
All the things we've discussed so far – improvements to integration at each step in the value chain, and tightening up track and trace systems to get quicker and more detailed lifecycle data –can work synergistically to strengthen our industry and make life more difficult for counterfeiters.
Q: Why do you think the development of standards is important for the industry?
A: Standards play an important role in shaping the industry by reflecting shared values, aspirations, and responsibilities of all manufacturers and consumers, emphasising security and quality control. Without them, the entire industry risks being led by the preferences of a particular company.
Standards also provide valuable guidance to revenue authority inspectors as they check and control an expanding range of products.